C&O Family Chess Center
Omar Pancoast III, Director
Certified USCF Chess Coach
Carolyn Pancoast, Program Director
217 West Diamond Avenue
Gaithersburg, MD 20877-2106

CBPancoast@gmail.com
OPancoast3@gmail.com
(Updated February 04, 2019)
2019 Summer Programs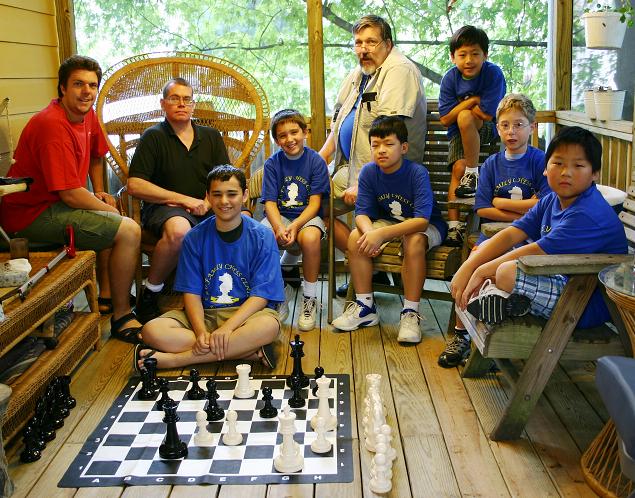 "Big Chess" on the chess center porch Morning Program, August, 2005 C&O-FCC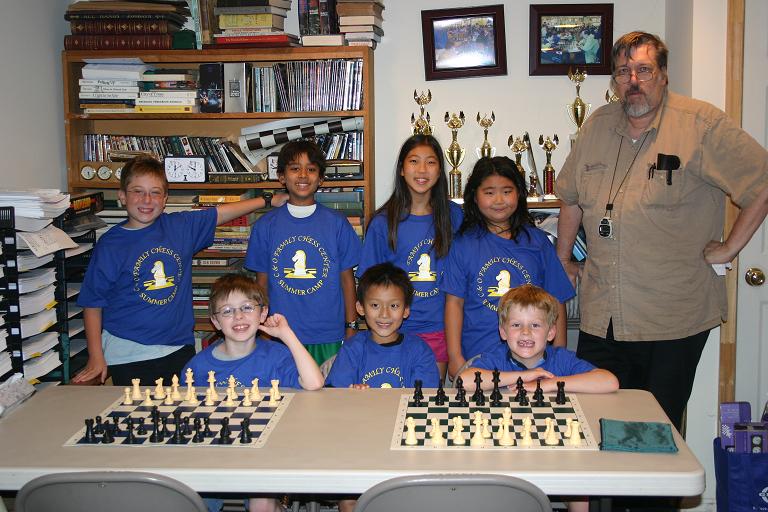 A "motley crew," Week 8 Campers Morning Program, August, 2008 C&O-FCC



2019 Summer Programs

Week 1: June 17 - 21 at C&O Family Chess Center

Week 2: June 24 - 28 at C&O Family Chess Center

July 01 - 05 VACATION - NO CAMP


Private lessons may be scheduled this week:

see Instruction



Week 3: July 08 - 12 at C&O Family Chess Center





Week 4: July 15 - 19 at C&O Family Chess Center





July 22 - 26 VACATION - NO CAMP
Private lessons may be scheduled this week:

see Instruction


((Call for possible discount rate)



Week 5: July 29 - Aug. 02 at C&O Family Chess Center







Week 6: Aug. 05 - 09 at C&O Family Chess Center







Aug. 12 - 16 VACATION - NO CAMP

Private lessons may be scheduled this week:

see Instruction


((Call for possible discount rate)




Week 7: Aug. 19 - 23 at C&O Family Chess Center







Week 8: Aug. 26 - 30 at C&O Family Chess Center

ENROLLMENT: Registration limited to 16 full day students (Gr. K-10)

SUMMER PROGRAM REGISTRATION FORMS *

phone

301-963-9122

with questions

(*After May 1st, please call to confirm openings before sending registration forms.)

These programs are organized and directed by well known area chess coach, Ross Pancoast, assisted by his father, Senior Coach Omar Pancoast, and other staff. Chess activities will include individual and group instruction for beginning & intermediate players, problems & puzzles, "bughouse," competition against online players, and more.

Four Regular Program Sections Each Week:

A) Chess & Activities (K-7th, this fills first) 9 AM - 4 PM

B) * Pro-Chess (full day chess) 9 AM - 4 PM

C) Half-day Mornings (K-7th - chess only) 9 AM - 12 PM

D) * Half-day Afternoons (advanced class) 1 PM - 4 PM

* CITs) Special section for Coaches In Training 9 AM - 4 PM
* Instructor approval required

FULL DAY SECTIONS (2):

A) "Chess & Activities" - Afternoon activities may include board & strategy games, outdoor play in our spacious back-yard playground, trips to local parks and playgrounds, and other activities. Suitable for all ages. limited to 16 students. Register early - this section fills first!

*

B) "Pro-Chess" - Afternoon activities may include advanced chess instruction, master instruction and game analysis, Club-rated Tournaments, advanced chess problems & puzzles, etc. Recommended for 6th Grade & up or students with an above average interest in improving and competing. NO BEGINNERS! Limited enrollment (6).


*

INSTRUCTOR APPROVAL REQUIRED

(Call for information).

* (CIT/SSL) Special section for Coaches In Training and volunteers. Limited openings for students in 6th grade and up with chess ratings of Level 6 (600 USCF) and up. Student 'full-volunteers' attend free and earn SSL hours during the morning session, where they work with beginner and intermediate level students. Students supply SSL forms for the morning sessions, and may be considered for SSL positions in our Saturday Morning Chess Club at Lakeforest Mall, as well. CITs learn and follow our C&O curriculum guides and may also work with our Chess.com players after regular classes. After a lunch break (12-1 PM), CITs are registered in the advanced session (1-4 PM) for coaching and practice with Coach Omar and other advanced staff and 'master' video lecturers. CIT tuition (for the afternoon session) is $150.



HALF-DAY SECTIONS (2):

C) Morning Chess (9:00 AM - 12:00 Noon) Beginner & Intermediate instructional program (see above). Recommended for younger students. Limited enrollment (16).

*

D) Afternoon Chess (1:00 - 4:00 PM) Advanced Beginner & Intermediate instructional program suitable for those with a greater-than-average interest in improving their chess.

Recommended for 6th Grade & up and/or students with an above average interest in improving and competing. NO NEW BEGINNERS! CIT/SSL students will be registered here. Limited enrollment (6).


*

INSTRUCTOR APPROVAL REQUIRED

(Call for information).

All students will receive chess study materials, a club-rating, and a free membership in the Chess.com on-line program.

ENROLLMENT: Registration limited to 16 full day students per week.

TUITION:

Full-Day Sections: $290 1st week

$270/week additional weeks

Half-Day Sections: $170 1st week

$150/week additional weeks

Before-Care Daily : 8-9 AM $15

After-Care Daily: 4-6 PM $25

Both: $30

SUMMER PROGRAM REGISTRATION FORMS *

or phone: 301-963-9122 with q

uestions.

(*After May 1st, please call to confirm openings
before sending registration forms.)

All sessions take place at the
C&O Family Chess Center
217 West Diamond Avenue
Gaithersburg, MD 20877


REGISTRATION:
Normal registration may be made using the forms linked above.

If you can't access forms, you may request them from us by E-mail or phone:

E-mail:

CBPancoast@gmail.com
Phone: 301-963-9122

Full payment due with registration
unless other arrangements are made.

Some Past Summer Program Pictures & References




Swimming Hole Swing at Seneca Creek, Week 7 Full Day Program, August, 2008 C&O-FCC


"My daughter... in a year long chess program with coach Omar... loved it. ...I was impressed with [his] teaching skills and knowledge. His methods are well suited to children of all ages. ...Our daughter is excited to continue with coach Omar again..." -- Mr. & Mrs. M. Munter, Bethesda, MD

"On the C&O Canal," Week 8 Full Day Program, August, 2008 C&O-FCC

"Our son... has absolutely loved your scholastic and camp programs and looks forward to them - chess has become an important hobby and interest of his... a passion... Great work by you all!" -- Mr. & Mrs. P. Koenig, Poolesville, MD

"Opening the Lock," C&O Canal, Week 8 Full Day Program, August, 2008 C&O-FCC

"My daughter... has been going to their chess classes... for 4 years [and also] to Spring Break and Summer sessions. ...This is one thing that she never needs to be pushed to. She has made great progress [and] is a decent chess player now. ...They are skillful and professional." -- Mrs. J. Sun, Germantown, MD


"My son... really enjoyed the programs... and also the Black Knights tournaments... [He] started with a minimum experience and within 3 years he was able to compete at the national and international level. We as parents... really enjoyed every moment to be involved with the chess center... I would definitely recommend... the C&O Chess Center
as a great option to play and learn chess." -- Dr. N. Shankar, MD, Germantown, MD



Chess in Seneca Creek State Park Full Day Program, July, 2003 C&O-FCC

"My daughter,... 7, has not attended any of the camps. However, she has been enrolled in the Saturday Morning Chess Club at Lakeforest Mall for almost a year now. I must say that [she] very much enjoys going there... She has improved her chess skills over the year and I hope she will do the same in the Fall again. She benefits from the environment the
club provides... plays games with other kids and with my help goes over the analysis [provided]. [Coach Omar] has been able to give her several one-on-one lessons which are very useful in understanding subtleties of the game. ...To conclude, the chess club... has been a very conducive atmosphere for my daughter to learn chess."
-- Mr. R. Tumkur, Rockville, MD



Tubing on Seneca Creek Full Day Program, June, 2006 C&O-FCC

At Cunningham Falls Full Day Program, June, 2006 C&O-FCC

"At the Top," Sugarloaf Mountain Full Day Program, August, 2005 C&O-FCC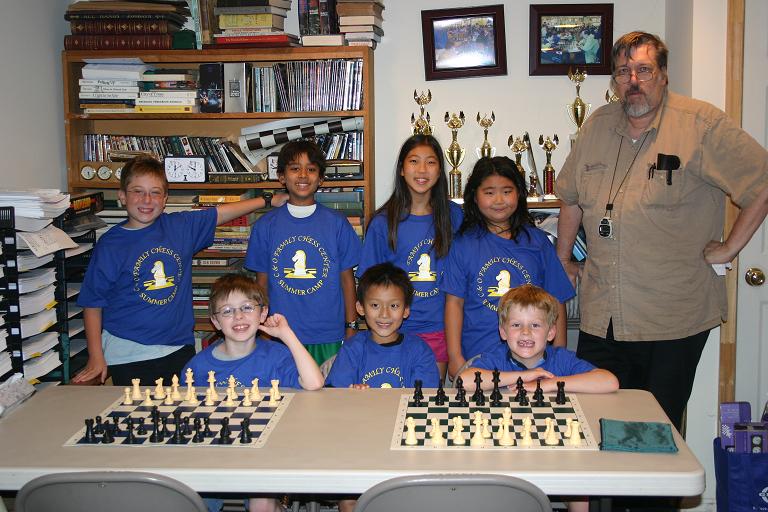 A "motley crew," Week 8 Campers Morning Program, August, 2008 C&O-FCC